Sale!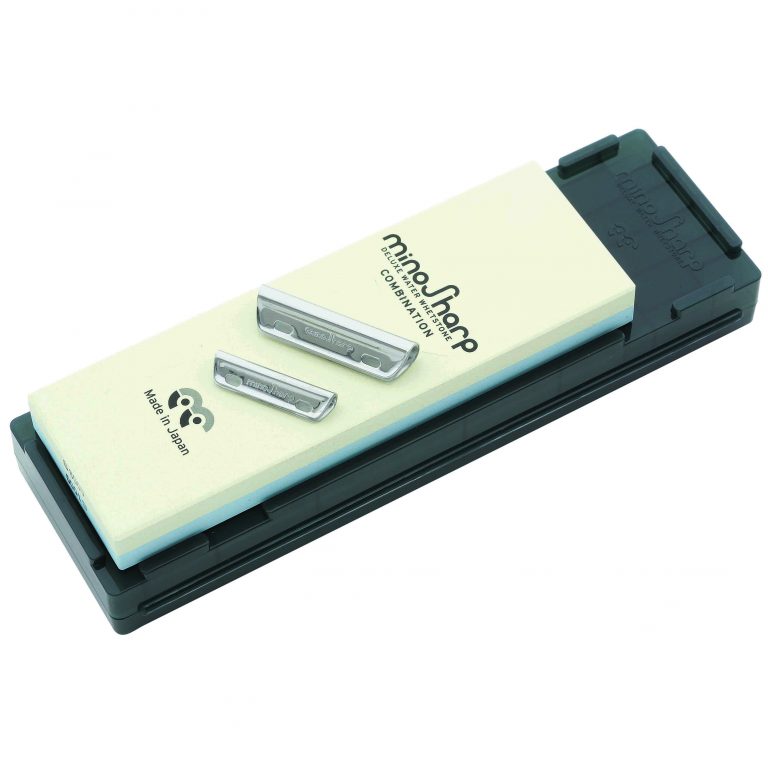 Global Minosharp Combination Deluxe Whetstone 8000/1000 Grit
Medium/Fine 1000/8000 grit. Comes complete with holder and guide rails that suit most knives.
Secured Payment
|
Free shipping over $100 (excludes bulky products)
View On Mobile Open your camera and Scan the QR code to view on your mobile.
MinoSharp Sharpening Kit with COMBINATION Stone allows you to use a whetstone without the fear of incorrectly sharpening it. This is because it includes a large and small guide rail which can be clipped onto the knife and assists with keeping the angle. It comes in a plastic case that doubles up as a Whetstone holder. This full set is everything you need to begin sharpening your blade.  It comes with a medium 1000 grit and superfine 8000 stone. You will most likely use the 1000 grit for keeping the edge on your knife but if you want to further sharpen it then you can use the 8000 grit stone but we advise caution when using this stone as you should have taken some sort of training before using it as it can damage your blade. If you are looking to sharpen a chipped or very dull knife, we suggest using a much lower grit whetstone.
Includes:
1x Combination whetstone
1x Large sharpening guide rails
1x Small sharpening guide rails
1x Holder which also doubles as a storage box.
Features:
1000 grit for sharpening & maintaining edges
8000 grit for finely sharpening
Guide rails maintain the correct angle for sharpening
Small guide rail for blades 15cm & smaller
Large guide rail for blades 15cm & larger
Ventilated storage box doubles as a holder while sharpening
Instructions for sharpening:
1. The stone should be soaked for the required amount of time before use.
2. Hold the knife so that the blade meets the stone at a 10-15 degree angle, then push back and forth across the stone in smooth steady strokes maintaining the same angle. Maintaining the same angle is most important and you will know that you are maintaining the same angle from the sound the knife makes against the stone. If you are making the same sound with each stroke back and forth against the stone, you are maintaining the same angle.
3. Repeat the stage above on both sides of the blade going from one side to the other until your knife is sharp and there are no burrs on either side.
4. During sharpening a certain amount of wet powder will appear, but do not wash or wipe this residue and continue sharpening. Although this powder appears unsightly, it is this residue which sharpens the knives.
5. After sharpening, your knives should be washed in hot water and then towel dried.
From knife construction and testing to the story of Global, all the way to the comparisons between each series of knives, visit our in-depth Guide to Global to learn everything you need to know before buying!
USE & CARE:
Find all information on how to clean, wash, store and sharpen your Global knives HERE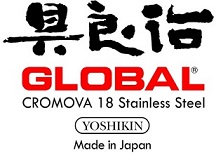 Only logged in customers who have purchased this product may write a review.