Excellent for lower fat cooking, Le Creuset Cast Iron Grills recreate the delicious seared flavour of sizzled meat and browned fish at home and give the strength and durability needed for the intense heat a grill produces. With its large cooking surface, the Bistro Grill is perfect to cook large quantities of steaks, chops, sausages, skewers of prawns, chicken and vegetables or several cuts of fish. It is ideal for cooking indoors or out on the barbecue and perfect for use on any heat source, including induction.
The matte black enamel cooking surface is ideal for grilling or searing and does not require seasoning. The grooved grilling surface is specially designed to create attractive char marks whilst the built-in handles make it easy to carry. Serve in style at the table with a choice of three colours to choose from.
32cm diameter
Induction, Gas, Electric, Grill and Ceramic hob safe, Oven Safe
Dishwasher Safe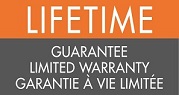 For more information on how to use and care for your Le Creuset products visit our Le Creuset Guide for a more in-depth understanding. Find out how these pieces are made, what makes them unique and why you should invest in Le Creuset!
See what other Le Creuset products and colours we offer.