Main Ingredient: REd Wine & Pears
Prep Time: 30 min
Cook Time: 25 min
Serves: 4-6
Recipe by: Secret Kiwi
Looking for a beautiful dinner party dessert that is super simple and easy to make?
Try our spiced red wine skillet cake with poached pears. With hints of fall spices, this not too sweet yet decadent fruity dessert is the perfect centrepiece for your dessert table. Spiced red wine is used to poach the pears and then is added to the cake mix to create a rich and moist cake with a mysterious extra depth. Making this dessert in a cast iron pan as the presentation is gorgeous but any standard-sized cake tin will do.
METHOD
Poaching the pears
Peel and core pears, leaving stems intact and cutting off bottoms so they can stand.
Place red wine, honey, spices, vanilla extract and salt in a pot and bring to a light boil.
Add pears and poach until just soft, approximately 30 minutes.
Removed pears and set them aside.
Strain poaching liquid to remove spices and reserve.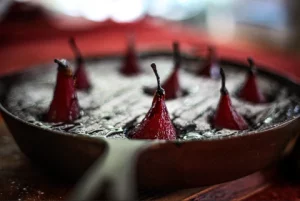 Prepare Secret Kiwi Kitchen's chocolate cake
mix as directed on instructions but make sure to substitute reserved red wine in place of liquids.
Add the rest of the poaching liquid back into the pot and simmer until a thick honey like sauce forms, careful not to burn. Set aside until cake is ready to serve and drizzle over the top.
NOTE: If using Secret Kiwi Kitchen's 850g cake package, 1/2 the recipe. Weigh out 425 grams of the mix, add 1 egg, 1/4 cup vegetable oil, 1 teaspoon vanilla, and add in 1 cup strained red wine poaching liquid.
Grease with oil or butter a cast iron skillet*
Add cake batter and spread evenly. Place pears standing up around the pan.
Bake for 35 minutes in a heated oven or until a knife or toothpick inserted into the cake comes out mainly clean.
Serve with reserved reduced red wine honey sauce drizzled over the top and powdered sugar.
This cake is delicious paired (no pun intended) with ice cream or heavy cream.