Lodge Cast Iron Camp Dutch Oven (2 Sizes)
The Lodge camp dutch oven lid is flanged to contain hot coals on top of the pot so the oven can be used for baking, stewing and roasting and also inverts for use as a griddle.
Secured Payment
|
Free shipping over $100 (excludes bulky products)
View On Mobile Open your camera and Scan the QR code to view on your mobile.
All Lodge Camp Dutch ovens come complete with cast iron lids.
The lid is flanged to contain hot coals on top of the pot so the oven can be used for baking, stewing, and roasting and also inverts for use as a griddle. Three integral legs allow the oven to be perfectly spaced over hot coals for campfire and fireplace cooking. Don't be confused by any imitation. Lodge's closely held metallurgy and strict quality standards are what garnered the Lodge Dutch Oven a "Best Buy" by Cook's Illustrated magazine.   Used by the Boy Scouts of America, the portable "camp Dutch oven " is the pot that does it all.
Seasoned Lodge Cast Iron Cookware offers a healthy alternative to non-stick cooking, eliminates the time and effort of home seasoning, and is Ready-To-Use right out of the box. Whether you're frying, simmering, sautéing, baking, braising, or slow roasting you'll find what you need with Lodge's extensive range of skillets, grills, dutch ovens, woks, pizza pans and outdoor grills. Truly versatile, Lodge Cast Iron cookware is at home in the oven, on the stovetop (including induction), on the grill or over the campfire. Now coming out of the Lodge foundry is the newest line, Blacklock, going back to the companies origins and beginnings.
Available in 2 sizes the pre-seasoned Lodge Camp Dutch Ovens set standards!
Sizes:
25cm | 3.7L /Height with lid: 17.27cm / Total Length (handle to handle): 29.97cm / Weight: 5.70kg
30cm | 5.6L / Height with lid: 18.66cm / Total Length (handle to handle): 34.03cm / Weight: 8.16kg
Features:
Seasoned for a natural, easy-release finish that improves with use.
Unparalleled heat retention and distribution.
The flanged lid holds coals/briquettes.
Invert the lid for use as a griddle.
Legs on the bottom allow Dutch Oven to be put in the fire (not stovetop compatible due to the raised base)
Bail handle for use with a tripod.
Made in the USA
Get the full rundown on Lodge Cast Iron in our 'Learn about Lodge' Blog.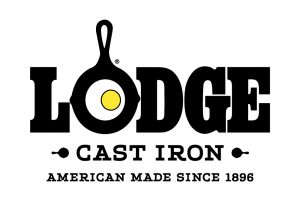 Lodge Cast Iron – a lifetime of cooking.
In 1896, in the tiny town of South Pittsburg, Tennessee, U.S.A., Joseph Lodge began a cast iron cookware foundry, quickly creating an enduring standard of quality. The resulting privately held metal formula, precision moulds, and exacting wall thickness produce the finest cast iron cookware available.  Not even the most expensive stainless or aluminium cookware can rival the even heating, heat retention, durability, and value of Lodge Cast Iron. 2002 saw the introduction of Lodge Logic: revolutionary pre-seasoned, ready-to-use cast iron cookware. This set a new standard for the cast iron cookware industry and has earned Lodge many industry accolades and awards.
| | |
| --- | --- |
| Weight | 0.000 kg |
| Size: | 25cm, 30cm |
USE & CARE
Keep it dry. Keep it oiled (seasoned). Keep it 100 years.
Steps:
Hand wash with a stiff nylon brush and hot water. Using soap is not recommended, and harsh detergents should never be used. DO NOT put in the dishwasher! (Avoid putting a hot dish into cold water. Thermal shock can occur causing the metal to warp or crack).

Towel dry immediately.
Rub with a light coat of vegetable oil after every use until the sheen is restored. This keeps the iron seasoned and protected from moisture
My new Lodge seasoned cast iron cookware has a spot or mark that looks unfinished. What is this? Read about it here.
TIPS:
If you are having trouble removing stuck-on food, boil some water in your pan for a few minutes to loosen residue, making it easier to remove.
Do not let your cast iron air dry, as this can promote rust. Store in a cool, dry place. If you have a cover or lid, for your cast iron, place a folded paper towel in between lid and the base allowing air to circulate. This prevents moisture from collecting inside the vessel, which can cause rust.
Only logged in customers who have purchased this product may write a review.
You May Also Like
Lodge Cast Iron Deep Camp Dutch Oven 30cm

$

339.00

Lodge Cast Iron Reversible Griddle 42cm

$

169.00

Lodge Cast Iron Combo Cooker Set 26cm

$

229.00

Lodge Cast Iron Square Grill Pan Wildlife Trout 26.5cm

$

119.00

Lodge Logic Cast Iron Sportsman Grill

$

469.00

Lodge Cast Iron Dutch Oven 20cm 1.9L

$

159.00

Lodge Cast Iron Dutch Oven 26cm 4.7L

$

215.00

Blacklock Cast Iron Triple Seasoned 5.2L Dutch Oven

$

395.00

Le Creuset Cast Iron Giant Reversible Grill 40cm

$

539.00

Lodge Cast Iron Dutch Oven 30cm 6.6L

$

329.00

FINEX Cast Iron Dutch Oven 4.7L

$

799.00
You May Also Need
Lodge Silicone Trivet Potholder

$

27.99

Lodge Chainmail Scrubbing Pad

$

64.99

One Piece Ladle Stainless Steel (7 Sizes)

$

3.50 –

$

10.99