Sale!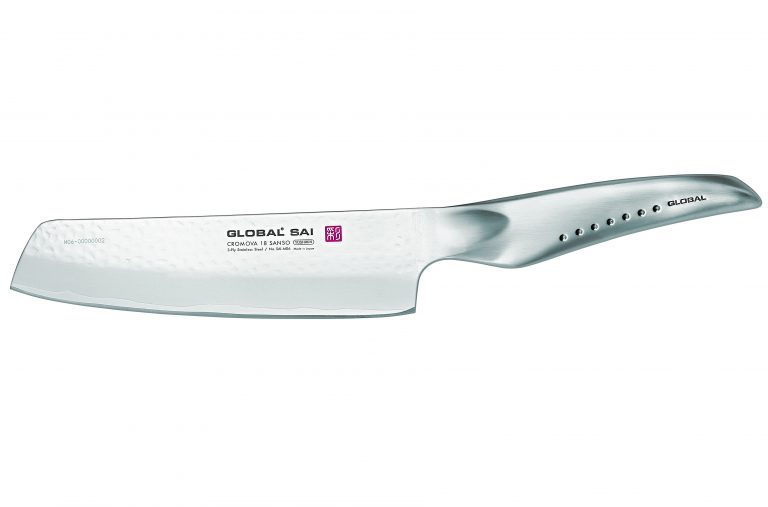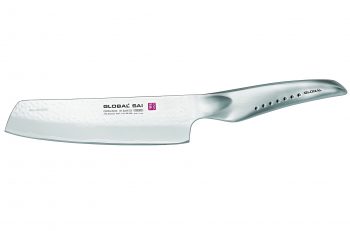 Global SAI-M06 Vegetable Knife 15cm
Features a hammered finish, 3-ply special steel and an ergonomically shaped handle.
Secured Payment
|
Free shipping over $100 (excludes bulky products)
View On Mobile Open your camera and Scan the QR code to view on your mobile.
Global SAI has two vegetable knives in its range. The SAI-04 is a specialist vegetable chopping knife. It has a long flat blade designed to get a clean cut when the knife cuts down onto the board. It is quite a heavy knife and suitable for long hours in the kitchen. With its long 19cm blade and the stretched handle of the SAI series, the SAI-04 knife is the largest vegetable chopper Global produce. It has a smaller brother the SAI-M06, which home users will find a bit more manageable as it has only a 15cm length. This makes it more similar to the popular Global G-5 Vegetable Knife.
Global SAI sit as Global's premium knife range with superior cutting performance and edge retention. Designed by renowned industrial designer Komin Yamada, Global SAI is the first new line from Global in 25 years and pays homage to the Samurai tradition of sword making. The slightly longer curved ergonomic handle provides a comfortable grip and features 7 signature black dots which represent the 7 noble virtues of the Samurai's code of honour; Integrity, Courage, Compassion, Respect, Honesty, Honour and Loyalty. The handles as with all Global Knives are hollow and weighted; the handle has an ergonomic thumb rest for a smooth, efficient cutting motion and comfortable grip. The blades themselves are sharpened to a 12.5-degree edge, which has been mirror-polished by hand for extra-long lasting sharpness. The beautiful hammered finish applied to the patented CROMOVA 18 is not just for looks, it produces air pockets which help release food while cutting, giving the blade non-stick properties.
Features:
Special three-ply blade construction made from corrosion-resistant CROMOVA 18 Sanso stainless steel, sandwiched between two layers of softer SUS410 stainless steel material.
The blades are honed to a fine edge to give a superb cutting performance which helps to protect the blade against chipping, rusting and staining.
Unique convex edge of the blade makes cuts smoother, requiring less energy.
Perfectly balanced, sand-filled ergonomic handles designed in the traditional Japanese bushido way of the Samurai.
Handcrafted in Japan using artisanal techniques with modern technology in the tradition of the samurai sword.
From knife construction and testing to the story of Global, all the way to the comparisons between each series of knives, visit our in-depth Guide to Global to learn everything you need to know before buying!
USE & CARE:
Find all information on how to clean, wash, store and sharpen your Global knives HERE

Only logged in customers who have purchased this product may write a review.